Alan Holman's Microcosm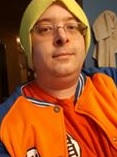 I'm a person from Saskatoon Saskatchewan, Canada. I've written some stuff, acted in stuff, and I used to be a volunteer broadcaster at a community radio station. This web-site is my little microcosm on the internet, where I post whatever I feel like posting.
---
Writings
Asclepius' Staff - A book about an holistic method for curing cancer. People have experienced remissions by using this method. If you read the book, consult with your Doctor about the actions it suggests before you take any of those actions. The author is posting this book here in good faith, and with prayers for anyone who uses its information.
Banana Chan - An unproduced series of anime scripts.
Brian's Path - Scripts for an unproduced serial drama for television.
---
Chat
This chat room is open 24/7! NEXT SCHEDULED CHAT PARTY: "Writers And Readers And Artists And Musicians Of The World UNITE!" - Monday July 23rd @ 7pm to 9pm CST. This will be an opportunity for people who are involved with The Arts, as either creators or fans, to self-promote your projects and talk about what you like and what you look for! Maybe you'll meet a new collaborator and/or get inspired to create something new! We might play creative little chat games! Invite your friends!
---
Alan's Occasional Rants
July 8th, 2018 - I just learned that the television series People of Earth was cancelled. I really liked that show, so I'm disappointed that it was cancelled. It was probably cancelled because the reptilians in it were very much like the reptilians in David Icke's books ... that is actually a reason why one at a network might cancel a show ... even though it's a reason why I'd watch a show.
---
E-mail feedback/comments/questions/complaints/etc to me at newlegend2005@yahoo.ca